RESPONSIBILITY TOWARDS CUSTOMERS
One of the principal aspects of the ORLEN Group's operations is a&nbspsteady improvement in the quality of its products, services and customer service standards. Customers are a&nbspkey stakeholder for the ORLEN Group.
The ORLEN Group manages Central and Eastern Europe's largest chain of over 2,800 service stations, located in Poland , the Czech Republic, Germany, Slovakia and Lithuania. At the end of 2020, more than 2,000 Stop Cafe and Star Connect sites operated across the network, including convenience stores under the O!SHOP brand.
Growth of the retail segment is driven by the expansion of our sales network and may additions to our product portfolio. By 2030, the number of Polish ORLEN-branded service stations operating in the region will be at least 3,500.
The Group will seek to enhance the availability of alternative fuels, for instance by deploying at least 1,000 EV fast chargers and developing the sales of hydrogen and LNG/CNG.
Our broad integrated offering of non-fuel products and services is expected to keep attracting new customer groups. The ORLEN2030 strategy, published in November 2020, provides for growing retail sales, including through the development of modern communication channels and digitisation of sales formats based on the RUCH network. RUCH is not only a&nbspnetwork of newsstands in very good locations, but also advanced courier services. The launch of RUCH's potential, development of new store and food service formats outside ORLEN service stations, as well as the network of parcel pick-up points will accelerate growth of our retail segment. As a&nbspresult, 1,300 new sales outlets will be added to ORLEN's retail network.
Motorists can already refuel hydrogen-powered passenger cars at two ORLEN stations in Germany. In addition, 43 service stations sell CNG.
2020 saw the launch of the ORLEN Charge app, whichallows users to quickly and conveniently locate the nearest charger, check connector availability and power rating, start and end the charging session at any time and in any place, and track the charging power and charging progress on a&nbspDC connector. Users may quickly contact the ORLEN 24/7 hotline to report problems with a&nbspcharger or to check their charging history and facilities available in the vicinity of an ORLEN charging station.
PKN ORLEN is also developing the ORLEN VITAY application, in which the ORLEN Pay mobile payment service is available at the beginning of the third quarter of 2020. It enables customers of ORLEN stations to make convenient and safe payments for fuel directly at the dispenser. Originally, the service was only available as a&nbspseparate application. The functionality of ORLEN Pay is constantly being improved. In 2020, it received new solutions, including the possibility of using the Big Family Card and BiznesTank, as well as payments using GooglePay, ApplePay and BLIK. Mobile payments especially gained in importance during the pandemic, which in turn contributed to a&nbspseveral hundred percent increase in the number of transactions made in the application compared to the previous period, thanks to the above-mentioned service.
With the safety of our customers and service station personnel in mind, we have taken steps to mitigate the risk associated with the spread of coronavirus. ORLEN service stations in Poland were equipped with specialist air cleaning and filtering systems, and the ORLEN Group's foreign networks also installed such systems at their service stations. New solutions for motorists make refuelling faster and payments for fuel easier. Protective face masks and hand sanitiser liquid are available at all service stations. We provided personal protective equipment for all employees, we responded to dynamic changes in the law on an ongoing basis, we equipped all stations with transparent partitions separating them from customers and appropriate procedures related to counteracting the pandemic.
Customers could execute transactions safely, without visiting the station building, through the mFlota and ORLEN Vitay mobile applications with the integrated ORLEN Pay application.
PKN ORLEN worked consistently to enhance its partnership with Polish producers, expanding the offering of Polish products available at its service stations both at home and abroad. The purpose of our #SupportingPoland campaign rolled out in 2020 is to strengthen consumer attitudes and encourage Poles to make informed decisions and opt for products made in Poland. In this way, PKN ORLEN supports the national economy and advocates the idea of modern economic patriotism. In June 2020, products made in Poland accounted for 85% of the non-fuel offering at ORLEN service stations in Poland, with the figure standing at 30% in the Czech Republic and Slovakia, and at 20% in Lithuania. PKN ORLEN is also selling Polish products in Germany. Consumer surveys indicate that 75% of Poles believe that Polish companies such as PKN ORLEN should actively engage in promoting Polish manufacturers. Almost 90% of Poles feel encouraged to buy a&nbspproduct based on the information that it was made in Poland, and 80% of the respondents believe that Polish products are of higher quality and more environmentally friendly.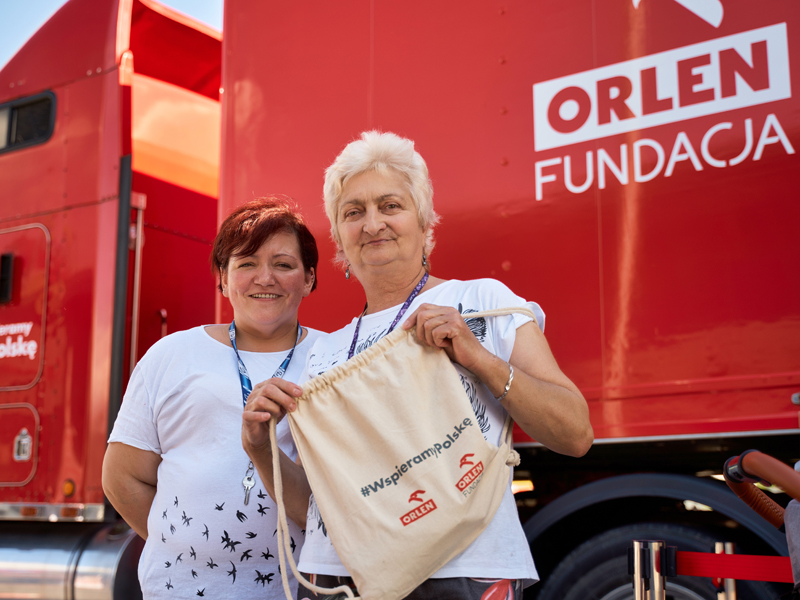 PKN ORLEN is building a&nbspsustainable multi-utility group under a&nbspsingle powerful brand. Approximately 60% of the ORLEN Group's revenue currently comes from abroad. Following the rebranding of service stations across the European network, with the ORLEN brand now present in all of our markets, the next step towards building stronger global awareness of the ORLEN brand was to change the name of our Czech company Unipetrol to ORLEN Unipetrol as of January 1st 2021.
In 2020, products ranges that continued to enjoy strong popularity with customers were standard Efecta fuels, which have specific cleaning properties protecting both the engine and the fuel system as a&nbspwhole, and Verva fuels, which improve vehicle's acceleration performance. Both Efecta and Verva contain the most sophisticated and selected enhancing components, improving the performance, prolonging the engine life and resulting in lower CO2 emissions than standard fuels.
The range of goods offered at our service station stores reflects customer expectations and market trends. It includes car care and maintenance products (accessories and car cosmetics, engine fluids) as well as food products (beverages, snacks, foodstuffs). When adding new items to our food product range, we pay particular attention to their ingredients and choose healthy options, i.e. healthy sweets and clean label salty snacks. When supplies are taken in, the expiry dates of all products are checked, and the condition of packaging is verified. This is also done on an ongoing basis at the stores, during resupply of products on display. Our storage standards require that food products be kept separately from chemical products.
For more than three years, the Stop Cafe food service offering has been steadily expanded to include products for vegans and vegetarians. 2020 was yet another year in which our customers assigned the highest rating to ORLEN's food service products (hot dogs and coffee) in terms of their quality and popularity, thus confirming that all our efforts to ensure high product quality and safety are absolutely justified and expected by our customers. For over eleven years now, Fairtrade-certified coffee has been available at over 1,700 Stop Cafe outlets within the ORLEN retail chain. By participating in the Fairtrade programme we support the development of farming communities in the global South countries.

In accordance with Directive 2019/904 of the European Parliament and of the Council of June 5th 2019 on reduction of the impact of certain plastic products on the environment (SUP, or single-use plastics), we optimised the quantities of packaging and catering accessories we use and started to replace them with environmentally-friendly single-material versions. Efforts are being made to identify recycled substitutes and prepare appropriate labels to build customer awareness of how the packaging should be handled in order to smoothly enter the recycling process.
Through our service stations, customers can also access a range of various services. These include in particular food services, car wash facilities, and the parcel collection service ('Station with a&nbspParcel') provided in cooperation with the Polish Post.
The popularity of our car washes is growing. The automatic washing machines at the ORLEN Group sites have a&nbspclosed water flow system, which contributes to reduced water consumption and industrial wastewater volumes. Our car wash service standards guarantee high quality of cleaning while limiting the consumption of chemicals. We make every effort to ensure that our equipment provides very good washing quality with the least possible environmental impact. In 2020, 40 car washes and 1&nbspself-service car wash were modernized.
All customers inquiring about the health and safety impacts of non-fuel products and services offered at our service stations are provided with reliable information by the service station personnel. In addition, detailed safety data sheets are available at all stations for the chemical products. Apart from the product composition, they include information on the potential threats and hazards and the procedures to be followed if they should materialise. Disclosure requirements concerning the threats and hazards posed by the chemicals manufactured and used by a&nbspcompany are regulated under Polish and EU laws. MSDS documents are the key tool used under the REACH regulation to ensure information flow along the supply chain. Pursuant to Art. 31 of REACH, the supplier of a&nbspsubstance or mixture is required to deliver to the customer an MSDS document in the official language of the member state in whose territory a&nbspgiven substance or mixture is marketed. The provisions of the Polish Labour Code are equally important. Its Art. 221.2 stipulates that "Any user of hazardous substances or hazardous chemical preparations shall have an up-to-date listing of such substances and preparations, as well as relevant MSDS documents. The substances and preparations shall be handled in packagings protecting against noxious action of such substances and preparations, fires and explosions".
Our MOP Michałowice is the undisputed leader among all service stations in Poland. ORLEN DRIVE Michałowice is the first drive-through service station in Poland. Motorists can refuel their vehicles, order food or drink and pay without having to get out of the car. Through this project, PKN ORLEN seeks to develop the Quick Service Restaurants model at the service stations. The solutions we have implemented help reduce the time needed to order and receive the products from the Stop Cafe food range.
In response to new consumer trends, including those related to mobility in urban areas and economy of sharing, a&nbspcar sharing (pay-by-the-minute car hire) service is available at selected ORLEN stations. It is operated in cooperation with Traficar. The Group also partnered with Nextbike Polska in a&nbsppilot project to offer bike rental, including both conventional and electric bikes, at selected PKN ORLEN stations in large Polish cities.
Our service stations are a&nbspsafe place for both customers and employees. All sites are equipped with burglary and robbery alarm systems. Contracts with professional security providers guarantee quick arrival of a&nbsppatrol if needed. All of our service stations have CCTV systems that record events inside and outside the facilities. The stations also have their own rules for vehicle and human traffic on their premises which, combined with luminescent markings, increase the overall safety level.
The stations with LPG pumps are adapted to enable safe refuelling of gas-powered vehicles. Service station attendants are always ready to assist customers and help them refuel their cars. At most stations, we doubled the number of LPG refuelling facilities for customers convenience.
All PKN ORLEN service stations apply the HACCP Food Safety Management System. It is based on the Codex Alimentarius requirements applied by the ORLEN Group since 2005. The HACCP system is steadily improved and developed along with our dynamically growing food and beverage services. Its purpose is to guarantee that food products sold at the stations satisfy all the sanitary requirements, are safe, and their quality meets the relevant standards, both in the case of individually packaged products and all products prepared in accordance with the food offering of the Stop Cafe, Stop Cafe Bistro, and Stop Cafe 2.0 outlets and in the restaurants.
HACCP has a&nbspsignificant impact on the quality and safety of the products we sell. Standardised food handling procedures include the requirements for delivery, receipt, storage and warehousing, as well as the rules and conditions for preparation for sale and consumption of food products offered by ORLEN. The system safeguards used in HACCP ensure that food-related processes are registered and monitored. ORLEN's regulations in this area include hygiene and production best practices, including the principles of traceability, supervision of allergens or handling of incidents that may affect food safety.
Service stations have access to the electronic version of the HACCP System Documentation through the CODO and DOFO Service Stations Portal.
HACCP, standing for Hazard Analysis and Critical Control Points, is a&nbspsystem used to identify health threats and the risk of their occurrence at various stages of food production and distribution. It helps control and mitigate all hazards to consumer safety and health. As basically HACCP is a&nbsppreventive system, its safeguards aim to minimise hazards related to food sale, protecting consumers by guaranteeing safety and high quality of purchased foodstuffs. It also protects food manufacturers, who are able to prove that their products are safe if their production processes are run correctly and are properly documented. The whole system features internal verification components and is audited on a&nbspregular basis.

In 2020, there were no incidents of non-compliance with regulations and voluntary codes concerning the health and safety impacts of products and services during their life cycle, by type of outcomes.
The station personnel are instructed to strictly obey the ban on selling alcoholic beverages and tobacco products to minors. Appropriate notices are put up at every site, and awareness training is organised for the staff. Another practice is to make service station personnel sign declarations in which they undertake to observe the Upbringing in Sobriety and Alcoholism Prevention Act, verify the age of potential customers, and refuse a&nbspsale if they suspect it could be in breach of the Act.
PKN ORLEN consistently takes action to prevent the spread of the coronavirus pandemic. The hand sanitizer produced by the ORLEN Group's Jedlicze plant and protective masks, mainly from domestic producers, are available for sale at all ORLEN service stations. During the height of the coronavirus epidemic (March–July 2020), ambulance service staff, police officers, fire fighters, municipal police officers, soldiers, Border Guard officers, as well as employees of the National Revenue Administration and Inspectorate of Road Transport were served out of turn and got a&nbspfree hot beverage. In connection with the epidemic, emergency procedures were implemented at the stations to ensure the safety of customers and employees. The stations were equipped with air-purifying sterilizers.
Facilities for

the disabled and children
At most stations there are special parking spaces for the disabled and the forecourts are adjusted to their needs. The ORLEN Group is actively modernising its service station network to better meet the needs of people with various dysfunctions. It has implemented standards of planning communication infrastructure in newly built facilities to make them more accessible for the disabled.

Facilities for people with disabilities at PKN ORLEN stations: More than 1,400 service stations have toilets adapted to the needs of people with disabilities, And at more than 1,100 stations there are special parking spaces for the disabled. We are gradually implementing present-day solutions to enhance the accessibility of our services. At all ORLEN service stations, customers can pay for fuel at the pump via the ORLEN Pay mobile application, using a&nbspspecial QR code displayed on each pump within the network. In 2020, to achieve further service improvements, the 'Mobile Cashier' and the 'Fast Lane' programmes were extended. In recent years, over 30 thousand employees of the ORLEN service stations have received training in services to people with disabilities. The training system was developed in cooperation with the INTEGRATION Foundation.

As far as our youngest travellers are concerned, their comfort is our priority. Many service stations in Poland and in the Czech Republic offer changing tables for babies. Children's needs are also addressed in our food service (mini menu) and store offer (toys, books and fairy tales). Many stations (mainly located along main transit routes) have playgrounds for kids.

As a&nbspsocially responsible company, friendly to families with children, PKN ORLEN has joined the 'Large Family Card' programme. Holders of the card are offered discounts at ORLEN service stations across Poland when purchasing fuel, Stop Cafe products or using car wash services.
Customer

service standards
Customer satisfaction and loyalty are regularly monitored within the ORLEN Group. Due to the development of petrol stations, the offer for customers is diverse and dynamic, new products are introduced in the gastronomic, fuel and shop offer. Station customers can take advantage of promotions and attractions, which affects their loyalty and satisfaction. The quality of the station's operation is systematically verified by internal assessments carried out by managers managing micromarkets using questionnaires filled in on mobile devices and as part of an external mystery shopping survey organized at all own and franchise stations.
It is also vital to monitor customer satisfaction with various aspects of service station activities. One of the elements supporting building relationships with customers is the approach to information provided by customers and the response to their complaints and requests. The customers have several options to contact us and express their opinion about a&nbspservice station or the services: over the Internet, by phone, or personally at service stations. In each case, the contact is registered in the complaints management system, which also records positive opinions and thanks from customers.

In 2020, customers at the ORLEN Group service stations completed 398,857,174 transactions.
Over that period, more than 11,843 complaints were received, of which 9,584 were to be handled in accordance with the requirements of the Integrated Management System, and 2,262 were submitted anonymously. 4.3% of the complaints were recognised as valid. The average waiting time to receive response to a&nbspregistered complaint is 6.27 days.
The contact form was supplemented with additional problem categories in 2020:
Praise – customers thank us for the high standard of service,
ORLEN Pay (former 'Mobile payment') – a&nbspcustomer report verification channel for customers using the mobile application enabling them to pay for fuel at the pump,
ORLEN Charge – a&nbspcustomer report verification channel for customers using unmanned EV charging stations.
Main issues reported by our customers in 2020:
* Submissions classified as "other" concern:
- requests for duplicate invoices
- "liability losses" – submitted in response to relevant liability insurance claims
- staff enquiries – submitted to twoje.opinie.pl
- transaction settlement errors submitted to BRS
Every customer complaint is analysed individually, in accordance with the adopted procedures. The increase in the total number of complaints in 2020 was due mainly to the COVID-19 situation, new communication channels offered to customers (responsive complaint form), and a&nbspstrong growth of our services (ORLENPay and ORLENCharge).
Care for

the natural environment
The ORLEN Group is particularly committed to environmental protection and this commitment also extends to its service stations.
With environmental protection in mind, PKN ORLEN is working to optimise the quality of packaging and accessories and replace them with biodegradable substitutes (subject to biochemical decomposition), e.g. plastic straws have been replaced with paper ones; multi-material food packaging has been replaced with single-material packaging (mainly paper-based); plastic cutlery is being withdrawn and replaced with wooden cutlery; and disposable plastic packaging (e.g. for lettuce or hot meals) is being replaced with packaging made of sugar cane (bagasse) pulp.
This is particularly important in the case of oils, operating fluids and automotive chemicals. All packaging is checked on delivery and if any damage is discovered the product is returned. Appropriate storage and display policies help mitigate the risk of damage to a&nbspproduct or its packaging and quality deterioration. Our service stations provide containers for used oil and other liquids packaging that may be harmful to the environment. They also provide primary waste collection containers.

All automotive products (oils, fluids, car cosmetics) come with safety data sheets specifying how the product should be stored and what to do in the case of contamination or poisoning.
In the case of fuels, the focus on environmental protection is our priority. Some solutions employed with this objective in mind are double-walled tanks to mitigate the risk of fuels leaking into the ground, fuel leak detection systems, station forecourt surface preventing fuels from seeping into the ground, hydrocarbon separators in forecourt rainwater drainage systems to prevent fuel penetration into the ground or ground water, containment integrity tools during fuel unloading (to significantly reduce vapour emissions), nozzles with the VRS system enabling recirculation of vapour from the car tank directly to a&nbspservice station tank, and neutralising agents to remove spills or leaks that may occur during refuelling or unloading.
PKN ORLEN processes personal data in accordance with the applicable personal data protection laws, including in particular Regulation (EU) 2016/679 of the European Parliament and of the Council of April 27th 2016 on the protection of natural persons with regard to the processing of personal data and on the free movement of such data, and repealing Directive 95/46/EC (General Data Protection Regulation), and Decision No. 18/2018/DG of the President of the PKN ORLEN Management Board of May 23rd 2018 on the principles of personal data protection at PKN ORLEN.
The PKN ORLEN Management Board appointed a&nbspdata protection officer (Resolution No. 6066/18 of May 29th 2018).
In 2020, PKN ORLEN recorded four complaints concerning breaches of customer privacy, and no data loss was identified. There were no legitimate complaints at the ORLEN Group companies concerning breaches of personal data protection.